Regal has tied up with a Taiwan based company to manufacture Play School products. The Taiwan based company is an ISO 9001 certified company and also has to its credit, international quality system CE authentication certification, obtained in the year 2000. Known for its world class products, the Taiwan based company is synonymous with high quality and safety standards.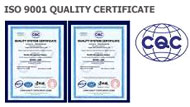 Since complying with the main requirements of the European Directive (Essential Requirements), the company has obtained CE marking that can prevent all accidents from happening.
The safety of children is essential. In lieu with the same, the Equipments must comply with the GS, CPSC, ASTM, AS/NZSS, etc, safety standards. Regular testing of various Safety Equipments can prevent the occurrence of accidents.
The company has a Mould design centre, CAD centre, Marketing centre, Service centre, Technology department, Production department and Quality testing management department. By carrying forward the spirit of "truth-seeking, innovation, quality, creation", our products are today deeply favored by all customers. The items are exported to America, Canada, Italy, France, Japan, Korea, Singapore, Russia, and the Middle East, etc.
Our purpose is to let the products go deep into the minds of the people in India and overseas and let "Regal" products give happiness and health to all the children using them.
The material used in the manufacture of the new series of play equipments solutions is galvanized steel tubes, fully powder coated which can be either powder coated or rubber coated. In addition, the Slides, Tops, Panels and other plastic materials used are certified LLDPE materials, highly durable food grade and CE approved plastic raw material, imported from Samsung Total Petrochemical Co, Korea.
Regal's new series of Preschool Toys & Play Equipments LLDPE have been installed successfully at various places across India. Should you have any further clarifications, please do not hesitate to Contact Us!
Colour Options

Upright Pipes
All upright pipes used are hot dip galvanised with 85 microns , the pipes used are 2.2 and 2.5 mm thickness
Top pipes caps are casted allinimum for outdoor and lldpe for indoors
Pipes base plate used is allinimum casted for outdoor and lldpe for indoors
Clamps and coupling used are casted allinimum
Handail,Climbers,side support pipes used are hot dip galvanised 32mm and 25mm od 2.2 to 2.5 mm thickness
Swing tops are 2.5mm thickness galvanised pipes clamps used are are allinimum casted with bearings and chains plastic coated
Decks/Platform/Steps
We use the auto punching machines to make the decks and platforms wihich are anti skid , and water does not staginate
They are made of 2mm perforated sheet , bent to prescion , with no sharp edges
The box climbing ladder also has a saftey side rail
The platforms and other decks come in 2 options powder coated or viniyl coated coated
Painting Process
Electro - statically applied polyester powder from germany, in flow line process baked between 190 to 220 degree
The powder used in painting is UV stabalised imported from germany , the micros are between 95 to 110
The pure polyster used in powder coating is lead free as per international standars
Nuts & Bolts
All bolts, nuts, screws, washers and etc. tamper resistant stainless steel.
Exposed Nuts are covered with UV stabilized plastic safety caps as per International standards
Fastners are stainless steel cannot be loosned without tools to prevent dechatment
LLDPE Parts
All lldpe slides pannels roofs etc are manufactured using anti UV anti ageing non toxic material imported from korea from samsung petrochemicals ltd
Most lldpe parts are food grde lldpe
Lldpe imanufacturing is machcine roto moulded, which gives uniform thickness to parts which is 6 to 8mm thickness
Capacity for roto mould 1.5 tons per day
PE Parts
All PE parts imported from korea and are Laser cut, all pe parts do not fade
Accessories
Like monkey bars, any swinging climbers have water sealent bearings
merry go round bearings used water sealent
All rope climbers have a 5 years gaurantee against breakage the rope used have soft cobering on top with steel wire inserted
ALL ABOVE ROPE CLIMBERS MADE IN TAIWAN
Outdoor Fitness
All Regals Vin outdoor gyms are EN 16630:2015 Certified
Main posts are 164/114 mm pipes and others are 80,60 and 40mm
Base plate is 330m dia,seating and foot holds are uv protectable lead free
All Regal Equipment is manufactured in state of the art facality, manufacturing process is follwed as per 1176 standars and iso 9002
All Regal play equipment comes with 3 years Gaurantee aginst paint, fading, breakages etc
All parts are easily replacable
LLDPE Slides mould are specially designed to suit Indian conditions and age groups and owned by Regal
All finished products have Flexibility, Impact, Salt Spray resistance, Hardness, and adeshion
Desigining
All equipment are designed as per area of client in 3D view enables clients to check all views