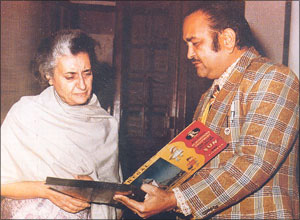 Late Chamanlal Dhupar BA., LLB.
President of Regal Sports showing the latest album
to the Prime Minister of India, late Smt Indira Gandhi.

Our name says it all. We are dedicated to helping Children in their crucial early years for over 75 years. We help by providing Play Equipment that allows Children to joyfully engage in the key activities that stimulate their development - the exploration of their surroundings and learning through play.

Children explore courageously and can learn at an astonishing pace. We strive to provide Play environment, that foster these wonderful activities while safeguarding against hazards and inappropriate challenges. One can discover more about a child while in Play than during discussion. We believe a successful REGAL Playground is one where you witness Children joyfully playing in a care free manner - alive with imagination, glowing from gleeful exertion, and enjoying unique, creative experience




Innovation, Durability, Quality



Rajeev Dhupar


Managing Partner


He had schooling in Hyderabad Public School, Begumpet and has traveled all over the world including the US, Europe, South East Asia, Hong Kong, etc. He possesses rich experience in F.R.P play Equipments.
We have earned the confidence of UNICEF, ICRISAT, Municipal Corporation, Industrial Townships, Housing Boards and Schools, child care providers and parents throughout India by making innovative, durable products that delight children and challenge them to grow. We intend to honour this commitment by:
1. Continuing to service our customers with integrity, honesty and competence and
2. Continuing to supply them with superior solutions that offer excellent value.

Our dedication to excellence made UNICEF and ICRISAT buy our Equipment (deemed exports) which has earned us a reward for being the largest exporter of Play Equipment from the Sports Goods Export Promotion Council, New Delhi. Recently we have been honoured with "Excellence Udyog Award" for our commitment towards quality.

Regal has an extensive collection of durable, sturdy, high quality, environmentally friendly, and standards compliant play equipment and associated products with a fascinating choice of over 100 innovative playground equipment designs from reputed Playground Equipment Dealers for children of various age groups. Our products not only provide endless recreation and joy, but also provide a wonderful play resource to keep the mind usefully engaged. Our well trained staff will be on hand to install Play Equipments at the customers site and also transport them to customers destination, throughout 25 States in India.

The new range of FRP Play Equipments offered by Regal are available in a host of designs, shapes and sizes with the added choice of a variety of colors. They are safe to play with and provide useful recreation. Furthermore, most of the Play Equipments are so designed that they are free from general maintenance